Cargo Vans
Cargo Vans
Plan Your Van: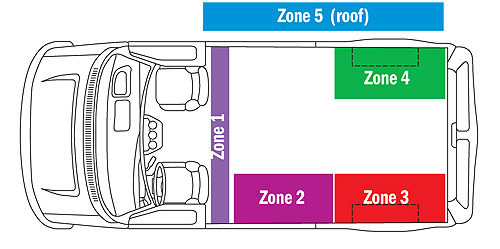 Van Commercial Vehicle Equipment
Each area of your cargo van requires different organizational equipment and accessories to ensure it's work-ready. We've broken it down into different zones, so you can easily plan the organization of your work van.
ZONE 1: The Bulkhead / Partition
Adrian Steel offers a variety of bulkheads to fit your cargo van. The bulkhead is an extremely important part of organizing your cargo van. Bulkheads offer several benefits for your work vehicle. A van bulkhead provides safety to the driver and passengers by separating them from heavy equipment in the cargo area of the van. It's also an excellent way to keep tools and equipment where it belongs: in the back of the vehicle. Learn more about Van Bulkheads and Partitions.
Adrian Steel offers the following types of Bulkheads for Van Vehicles:
Partitions / Bulkheads are sold as separate panel kits and wing kits, each designed to fit your specific van.
Add bulkhead accessories to organize files, papers, binders, manuals, and more. Adrian Steel offers organizational accessories for safety products, as well as Plexiglas Cover Panels. We also have a very popular Quiet Partition Door Kit, which minimizes noise in the cab area.
ZONES 2, 3, & 4: Organize the Interior of Your Van
Adrian Steel provides a variety of shelving units and modules to organize your tools and equipment. Browse the following products to find the best organization solutions for your Van vehicle:
ZONE 5: The Roof
The roof of your van can be fully utilized to carry ladders, lumber and other cargo.
View Adrian Steel's large selection of Ladder Racks to find the rack that best suits your needs.